Planning a private jacuzzi is the perfect way to enjoy your outside space all year round in the UK and it's incredibly exciting. Of course, if you're planning to add any kind of swimming pool, you want it to be everything that you dream it could be. That means making sure that you are covering all of the bases and avoiding making mistakes that you may end up regretting later.
To help you prepare, we've rounded up a list of do's and don'ts of building a swimming pool. We understand that this can feel like an overwhelming project, we are always happy to answer any questions you may have before planning even begins. 
There's nothing worse than looking at a finished project and feeling like there are things you wish you had known or done. Hopefully, this list of swimming pool do's and don'ts will help you get a good idea of what to take into consideration when planning your pool.
Spa Pool Builders England, Scotland, Wales and Ireland
Do's and Don'ts Of Building a Private Pool
DO: Decide Why You Want a Pool and How You Plan to Use It
The reason behind any project is an important question to be able to answer. Why do you want a swimming pool in the first place? The answer to this, including how you plan to use the pool, will help you to determine some of the swimming pool features that will help to ensure that you get the most out of your swimming pool design.
Some things to consider as you think about why you want a pool and what you'd like from it would be:
Will you mostly be swimming or relaxing?
Will you use the pool for exercise?
Do you want to be able to entertain by the pool?
Do you envision having a spa?
How much seating would you like around the pool?
Are there any water features that you are interested in?
Thinking about these types of questions, among others, will help you make the best decisions when pool planning for the pool of your dreams.
Don't forget about the area surrounding your pool
A swimming pool is so much more than just the pool itself. You likely won't' be spending the entire day in the pool, but you might spend the entire day around or near the pool if you have the right space.
Some of these areas around a pool might include a gazebo, an outdoor kitchen, fire features, seating areas, BBQ and eating areas and of course a pool patio. All of these go into making the time spent around the pool more enjoyable.
Think about it, if you can cook and serve meals outdoors, and have a place to escape from the sun for a while, while your kids are still swimming, you might spend the entire day well into the evening outside. These areas around the pool help you to maximise your investment by enjoying as much time as possible there.
Even the landscaping around the pool is really important and shouldn't be an afterthought.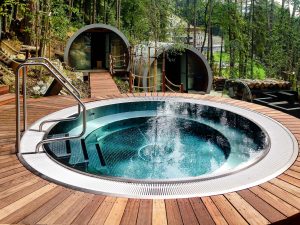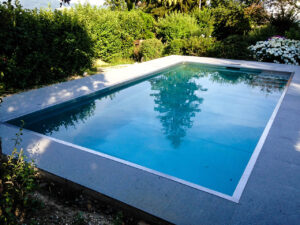 DO: Consider Your Budget For Your Bespoke Private Pool UK
We love when our clients dream big during the process of pool planning. One of the best things about being custom pool builders is that we are not limited to a certain size, depth or shape the same way that we would be with a fibreglass pool or even a vinyl-liner pool. With a stainless steel pool, the possibilities are almost unlimited.
however, everyone has a budget and we know that we have to work within the confines of each of our client's budgets. We understand that this can be an unwanted subject. In fact, sometimes when we talk to clients about their swimming pool budget, they'll respond, just tell me what it will cost.
The problem with that strategy is that, as with any project, there are varying levels of costs and various ways to ensure the project is still meeting all of your wants and needs and staying within your budget. It's always best to have a budget in mind. There are different choices that can be made based on budget, so having this information upfront is pretty crucial.
DON'T: Choose a UK Whirlpool Builder Based on Cost
Shopping for any service on price alone can be a recipe for trouble. There are typically good reasons why one company charges more for its service than other. But when it comes to swimming pool builders, we would argue that shopping on price alone could be a recipe for disaster.
It's definitely putting you at risk of being dissatisfied with the finished result and when you're paying as much as you are for a pool, that's not acceptable. A swimming pool is simply not something that you should cut corners on.
Find a pool builder who will listen and work with you, rather than against you. Ask to see examples of their work and check out their reviews. Reputable pool builders will be more than happy to share both of these things.
Private Whirlpool, Jacuzzi and Spa UK Nationwide
We offer a full range of related services depending upon the requirements of the clients these can include:
Full Spa packages including whirlpools, bespoke Saunas and Steam rooms
Heating and ventilation packages including ducting
Outdoor Plant rooms, weatherproof and built for purpose
Designer Lighting packages
Contact us today to chat about your ideas for a dream pool or jacuzzi. Call 
01384 898237 
or simply complete the online form and one of the team with be in touch soon.