One Piece Swimming Pool UK Fibreglass Alternatives
Are you considering a One-piece swimming pool UK or fibreglass alternatives? How long does it take to install a private swimming pool? You've probably been dreaming about a swimming pool for a long time. A pool is a valuable investment that will provide your family and friends with many years of enjoyment. It's a place to cool off on hot days, a place to entertain and enjoy your meals poolside, and a place to give your kids their best summer ever.
There are many reasons why a pool will add enjoyment to your lifestyle and value to your property but you want to ensure you actually end up with the exact pool you've been dreaming about. The end result ultimately hinges on the pool builder that you hire for the job. It's a big decision and you want to make sure you choose wisely so that you aren't left with regrets for years to come.
If you're contemplating the addition of a pool, spa or hot tub get in touch with our team for free private swimming pool advice, contact us online form or chat to our team on 01384 898237. 
One-piece Swimming Pools England, Scotland and Wales 
Previously when looking for one piece swimming pools thoughts may have turned to fibreglass pools as a good option. However, so many that exist on the market are made as cheaply as possible. While these pools may look great in images what you get and subsequently install could quickly turn into a nightmare. 
How long does it take to install a one piece swimming pool
How Long Does it Take To Build A Private Swimming Pool?
While not suitable for DIY installation stainless steel one-piece pools offer a stylish look that will last a lifetime. As well as longevity, stainless steel gives you flexibility with design. Pace Pools are confident to declare that a stainless steel swimming pool designed and installed by us will last for half a century. Your investment into one of our pools is outstanding value for money.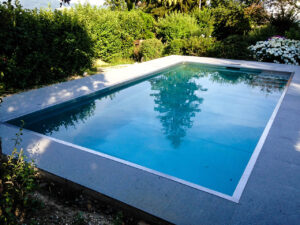 Swimming Pool Design and Build UK
Don't be left with a pool that falls short of your dreams. Instead, make sure that all of the items you have on your list as part of the design of your pool area are present and discuss them with your designer, even if they're additions you may add later. They could alter the format of the pool you have in mind.
Here are a few pool design ideas that shouldn't be extras but instead should be planned for from the very beginning.
Landscaping For A Swimming Pool
A pool builder shouldn't just be focused on digging the hole for your pool and not how that hole is going to affect the rest of your property. For instance, improper grading can cause parts of the landscape such as mulch or mud to wash into the pool or onto the patio. That's why it's important to think about the overall picture. You don't want to have future problems in your landscape that could have been prevented.
Planting Around Your Swimming Pool
The surrounding landscape is another important aspect of your overall swimming pool design. It's important to choose plants that are going to meet certain wants or needs such as providing year-round colour or maybe even privacy screening. You need to be mindful when choosing plants as you don't want to choose the wrong plants and end up with problems such as debris dropping into your pool or creating staining on your patio. Some plants may also provide too much shade where you want the sun to shine. These are all considerations that should be taken into account during the initial design, not as an afterthought. 
Swimming Pool Lighting UK
Lighting is another aspect that can really have an impact on the overall enjoyment of your space. Lighting around the pool not only has a very functional purpose of illuminating your space to make it usable in the evening hours but when properly done, it also looks aesthetically beautiful.
For example, the right lighting can be used to softly uplight some beautiful plants or trees for a stunning nightscape. Soft lighting will also be just enough to light up the pool area without drawing in a gang of unwanted bugs. 
Lighting up steps or walkways also makes your space safer to navigate in the dark. That's extremely important when it comes to a pool area.
Pergolas and Pool Houses UK – Covering Your Swimming Pool
It makes sense to plan for structures, such as a pergola or pool house before pool construction begins. That's because there are footings that will need to be built into the ground and these should be done during the digging phase so that excavation only has to happen once. Even if you're going to add the structure at a later date, it should at least be planned for now in order to keep the cost down and simplify the future build. In addition, some structures, like pool cabanas or storage sheds should still be planned for in advance to ensure appropriate spacing. Even simpler structures require forethought and planning.
When it comes to something as important as your swimming pool design, which you'll enjoy for years to come, you want to be sure it's done right. That means hiring a company that looks at the big picture and thinks about all of these design elements in advance.  If you're contemplating the addition of a pool, spa or hot tub get in touch with our team for free private swimming pool advice, contact us online form or chat to our team on 01384 898237. 
Stainless Steel Pool Designer and Manufacturer
PACE Pools is the UK's sole and exclusive supplier of Berndorf stainless steel pools. Since Berndorf became the market leader for luxury swimming pools in the 1960s,  more than 6500 Berndorf pools (both indoor and outdoor) spanning over 1,000,000m2 of water surface in total have been created. As the UK's agent for Berndorf, we're committed to upholding and exceeding the high standards and first-class quality that Berndorf has demonstrated since the 1960s. We have the experience and expertise needed to offer pools that are both aesthetic and functional masterpieces. 
As well as being committed to delivering luxury and elegance through both commercial and private pools, we also aim to make the entire process of designing and installing a new pool as easy and convenient as possible. We can help with every stage of the project, from designing a picture-perfect, practical pool, to installing it with minimal disruption.