Luxury Swimming Private Pool Design and Build UK
We pride ourselves on creating a bespoke swimming pool to suit any style or size of venue by using stainless steel which makes a bold architectural statement as well as having an economic and ecological approach whilst considering the varied needs of the users. Read more about the benefits of ultra hygienic stainless steel pools and hot tubs
We will design, construct, install and maintain a beautiful, long-lasting swimming pool or spa whirlpool anywhere in Great Britain servicing clients in England, Wales, Scotland and Northern Ireland. We are masters of luxury swimming pool design, build and maintenance. Each swimming pool is completely bespoke and made to measure according to your specific requirements, so whether your garden needs a luxury hot tub, or you're a swimmer needing a lap pool, speak to us today on 01384 898237.
Designer Luxury Swimming Pool Company UK Private Home Pools
We don't just design for beauty spas, fitness centres and hotels, we love to install private pools throughout the UK Nationwide. If you're contemplating the addition of a pool, spa or hot tub there's much to consider. It's vital that each aspect of your pool is carefully designed to match the aesthetic and functionality you desire. It's important to discuss the layout, facilities and overall look with your designer to ensure you're happy with your pool for many years. In this article we look at some of the considerations you'll need to think about when designing your luxury pool, spa or hot tub. For expert advice, you can always call us on
01384 898237
.
Bespoke Stainless Steel Swimming Pools
The first question to ask yourself is what made you want a swimming pool originally? The overall purpose of your pool will determine the shape, size and style. The three main reasons people choose to install a pool are exercise, entertainment and experience.
Luxury Pools For Laps, Exercise and Fitness
We can build you a bespoke pool for exercise, from lap swimming to aqua aerobics. Typically if choosing a pool for exercise a square or rectangle is the most appropriate shape to allow full-lengths to be completed. If you're looking to install a dual-purpose pool to swim and relax in, open swim lanes facilitate flexibility. Open swim lanes need to be straight, so they are not suited to curved or kidney-shaped pools, however, a curve could be incorporated at one side while the other remains straight for lane swimming.
Bespoke Pools For Garden Parties and Guest Entertainment
Indoor swimming pools can add fun and luxury to get-togethers, celebrations and parties. They can also be a fantastic form of play if children are part of the picture. In this case, you may like to consider a shallow end or area to enable safe play. A shallow area can be separated from the main pool area, or incorporated into the design to enable a walk-in feature. This can also affect the shape of your pool, so it's important to think about this early on.
Designer Steel Swimming Pools For Fun and Relaxing
Style is a vital part of designing a swimming pool for a luxury experience. If you want to relax and unwind in your pool you may choose to incorporate a wellness area with jets, bubbles or waterfalls. The tiling choice, shape and style is key to creating a luxury pool for entertainment purposes.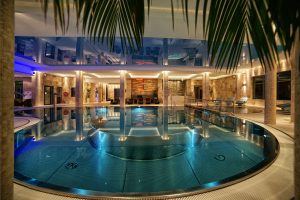 Made To Measure Swimming Pool Scotland, Wales and England – London to Edinburgh
The purpose of your pool will play a huge part in choosing your type of pool. The three main types of pool; deck level, infinity edge and skimmer. If you're not sure which type of pool is best for you and your audience, call our team on
01384 898237 
who will be happy to offer advice.
Infinity Edge Pool Design and Installation
Infinity edge pools, otherwise known as reflecting pools, create an illusion that the water cascades over the edge, giving the effect of the pool having no end. The water appears to merge with the horizon or with a lake or ocean. These pools add a sense of luxury to any setting.
Deck Level Bespoke Pools
In a deck level swimming pool or spa, the water is level with the ground surrounding the pool. The water is displaced over the edge, into a channel where it collects and is returned to the filtration unit.
Skimmer Swimming Pools UK
Skimmer swimming pools can also be known as freeboard pools. They include a surround that is higher than the level of the water. Skimmers are placed at intervals around the pool to clean and filter the water.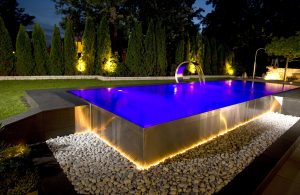 Bespoke Swimming Pool, Spa and Hot Tub Features UK Nationwide
To truly personalise your swimming pool you'll want to choose finishing touches. There are so many options to choose from but some of the most popular choices are;
LED Lighting
– Lighting can make a huge difference to the overall atmosphere. You may choose one specific colour or the option to change the lighting depending on the ambience you require at the time.
Finish
– The overall look of your pool will be dictated by the finish you choose. Our stainless steel pools can be finished with a range of products in almost any colour.
Water Features
– Jets, waterfalls, cannons, swim jets and fountains are all popular options to add even more luxury and fun into your pool.
Bespoke Whirlpools and Hot tubs Great Britain
If you don't want a full-sized pool or don't have room, our 1 piece, stainless steel whirlpools and hot tubs offer the perfect solution. They can still be fully bespoke to you and your venue and add just as much opulence.  Talk to our team today on
01384 898237
.