Advantages of Inground Pool Vs Above Ground Pool UK
Planning to install a swimming pool is an exciting endeavour. You know that your summers are about to get even better. You're probably imagining yourself swimming, lounging and spending time with friends and family.
Of course, before you get to that point, there are a lot of important decisions to make. One of these is choosing between an inground pool vs. an above-ground pool. 
If you're still weighing up your options, consider the benefits of an inground pool before making your decision.
The Advantages of a UK Inground Pool
There are many reasons why an inground pool could be a superior choice for your Luxury Pool in the UK. Here we look at some of the key advantages to consider.
An Inground Pool is More Aesthetically Appealing
One of the most significant advantages of an inground pool is that it's an attractive addition to your UK property. Aesthetically, above-ground pools often don't compare to an inground pool. You could build a deck around your pool but it's likely that an above-ground pool almost sticks out, rather than blending with and complementing your outside space.
An Inground Pool Will Transform Your Outside Space
One of the benefits of an inground pool is the way in which it can transform your outdoor space into an oasis.
This is typically one of the primary reasons why homeowners are looking to have an inground pool installed in the UK in the first place. It's not just that they love swimming, it's that they want their outside area to become a destination where they can spend more time relaxing and entertaining.
An Inground Pool Gives you a Multitude of Options
Another of the benefits of an inground pool is the customisability and the wide range of options is another huge advantage. With an inground pool, you can choose the shape, size, and depth. Above-ground pools can prove to be a little more limiting. 
The height of above-ground pools can mean you can't dive into them and they're typically more for splashing or floating than swimming any distance.
With a custom-built, inground pool, your options are practically limitless. That is, of course, assuming that you are choosing a stainless steel pool as opposed to a fibreglass pool.
You Can Enhance an Inground Pool UK with Features
The features that can be added to an inground pool are also plentiful and are what help to make the space feel more like your own personal paradise.
Here are just some of the possible features that could be added to an inground pool.
Lounging ledges

Water features (fountains, jets, bubblers, etc.)

Infinity edge

Waterfalls 

Pool lighting

Rock walls

Attached spa
There are also so many beautiful features that could be added around a pool such as a pool patio, outdoor kitchen, pavilion, fire features, and so much more. All of these add to the entertainment value and allow you to get more use out of your pool space.
An Inground Pool is More Durable
Durability is also a huge factor and a definite advantage of an inground pool. Inground and above-ground pools do typically have some of the same maintenance tasks such as cleaning and filtering, but as far as durability goes, a stainless steel pool is going to be far superior to any other pool.
Stainless steel pools are truly built to last, helping you to get long-term value out of your investment.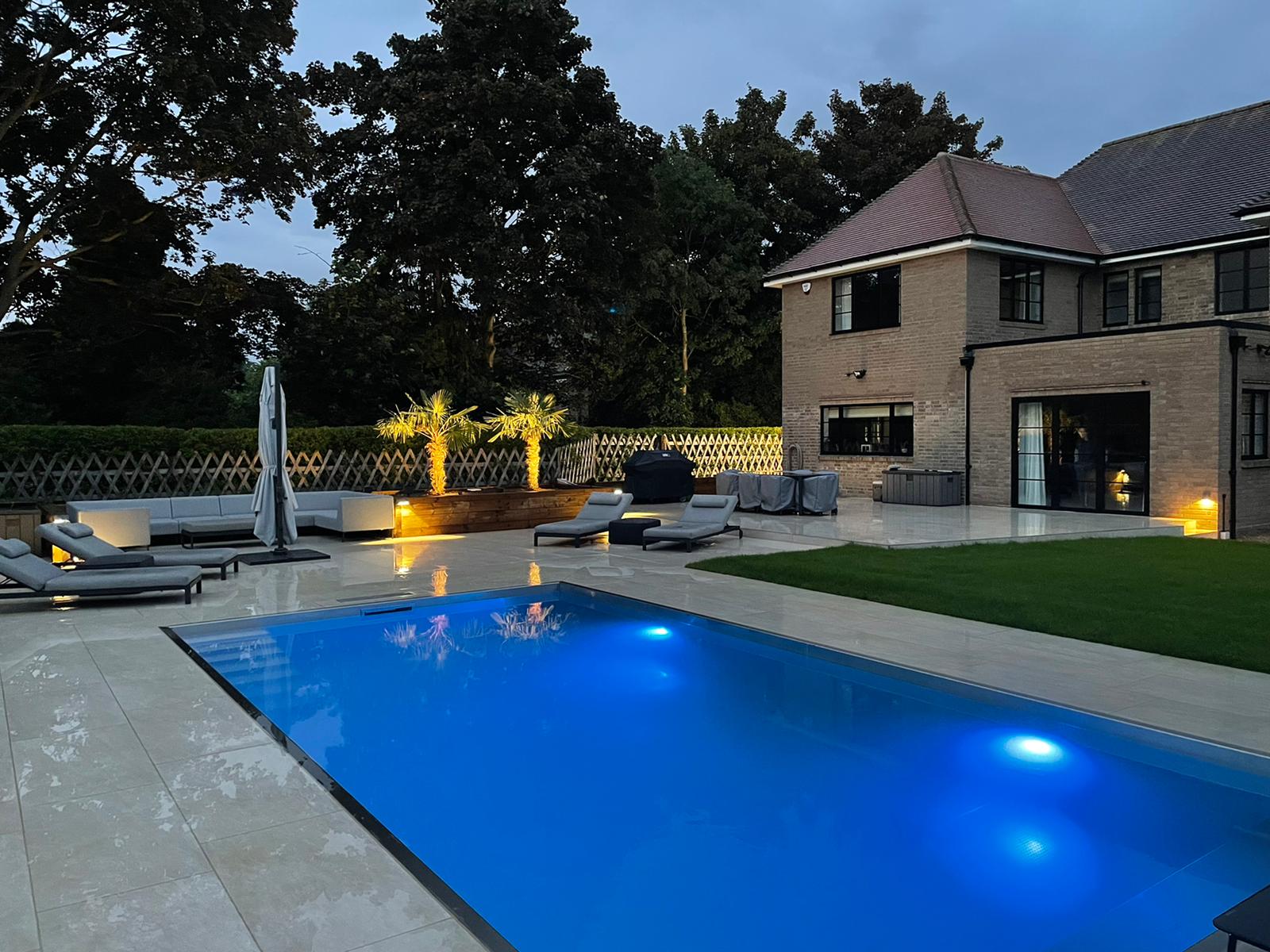 Installing an Inground Pool in England, Scotland and Wales
Hopefully, this has given you some insight into why an inground, stainless steel pool is the superior choice. Of course, at the end of the day, everyone has to weigh their options and choose what is right for them. If you know that you are only going to be in a house for a very short amount of time, then perhaps an above-ground pool will give you the flexibility to move it when you move into your long-term home.
If you are looking to create an outdoor oasis where you can truly start making memories with friends and family, then a stainless steel inground pool is the way to go.
Taking the Plunge With a Luxury Swimming Pool UK
If you are ready to begin the process of designing and installing an inground stainless steel pool in England, Scotland or Wales, then we are here to help.
Perhaps you've only just begun your research which is why you might have been searching for information on an inground pool vs. an above-ground pool. There's no doubt this is an exciting time as your research will continue to bring you closer to actually enjoying the pool of your dreams.
We know there is a lot to think about and many more points to consider, which is why we put together this swimming pool planning guide. But we are also always available to answer questions.
As you get closer to turning your pool dreams into a reality, we can be your guide. At the end of the day, you want to make sure that your hard-earned money is invested wisely into a swimming pool that you'll love for many many years to come.
Are you ready to get started on the pool of your dreams at your England, Scotland or Wales home? If so, talk to an expert and choose a solution that brings your dream to reality.