How Long Does it Take To Build A Private Swimming Pool?
Private clients who wish to enhance their home property with a swimming pool usually approach us as a referral; they have visited a friend or an associate and felt impressed with their private pool in their garden. We find a large percentage of our business is word of mouth.
Referrals do come from different sources, for example they have seen one of our hotel swimming pools either in Europe or the UK such as the Ragdale Hall Spa Retreat in Leicestershire or have been introduced by an existing private pool client.
Spa Whirlpool Leicestershire

With six pools, heat and water experiences in the Thermal Spa, Ragdale Hall Spa in Leicestershire offers relaxation, fitness and treatments to refresh and envigorate.
Are you a real novice when faced with the prospect of ordering a new private swimming pool? You want a bespoke design inspired by your own requirements, but how do you know it's in the best place? Do I need to learn how to test chemicals?
If you're contemplating the addition of a pool, spa or hot tub get in touch with our team for free private swimming pool advice, contact us online form or chat to our team on 01384 898237. 
Private Swimming Pool Builders – UK Design and Installation Timescales
Its fair to say that most clients have a concept in mind when we first speak to them, however, this often changes once we have spoken to them and discussed the possibilities available. For first time buyers we appreciate there will be a myriad of questions – remember we have in excess of 50 years' swimming pool design, installation and maintenance experience globally, in hotels and spas in Europe and the colder corners of the earth, to warmer climes of the Mediterranian and everywhere in between.
So, the final concept comes from a collaboration of ideas, the main aim for us is to make sure the client gets a pool that they will be totally satisfied with because with a lifespan of over 50 years the pool itself is a very permanent fixture.
Timelapse of Private Swimming Pool Installation
8 week private swimming pool design, build and installation
If you are flexible with your stainless steel swimming pool design, we offer a limited range of pre moulded one piece swimming pools that can be fitted in as little as 6-8 weeks.
This took 6 weeks in total including water treatment and heating, it was only 2 weeks for the pool digging and installation. One piece swimming pools which are delivered pre formed can be installed in less than 6 weeks, between 2-4 weeks.
Is this an indoor pool or outdoor in your garden? The positioning of your private pool will totally depend upon the layout of the ground, what undulation, views, water table, distance from the house etc. of course indoor pools pretty much site themselves.
Bespoke Design, Luxury Private Swimming Pools for Home and Garden – Budget and Investment
As previously mentioned, Pace Pools are confident to declare that a private swimming pool designed and installed by us will last for half a century. The investment you pay is oustanding value for money when you consider the longevity and a lifetime of use.
The initial budget costing are for the basic concept we discussed at the very beginning, this will cover all of their immediate pool requirements, we then move onto the other requirements that the project will need such as water treatment, heating (normally air or ground sourced heat pumps), swimming pool covers and other pool equipment such as air benches, in-pool jets and showers, fountains and any other water feature you'd like to enjoy.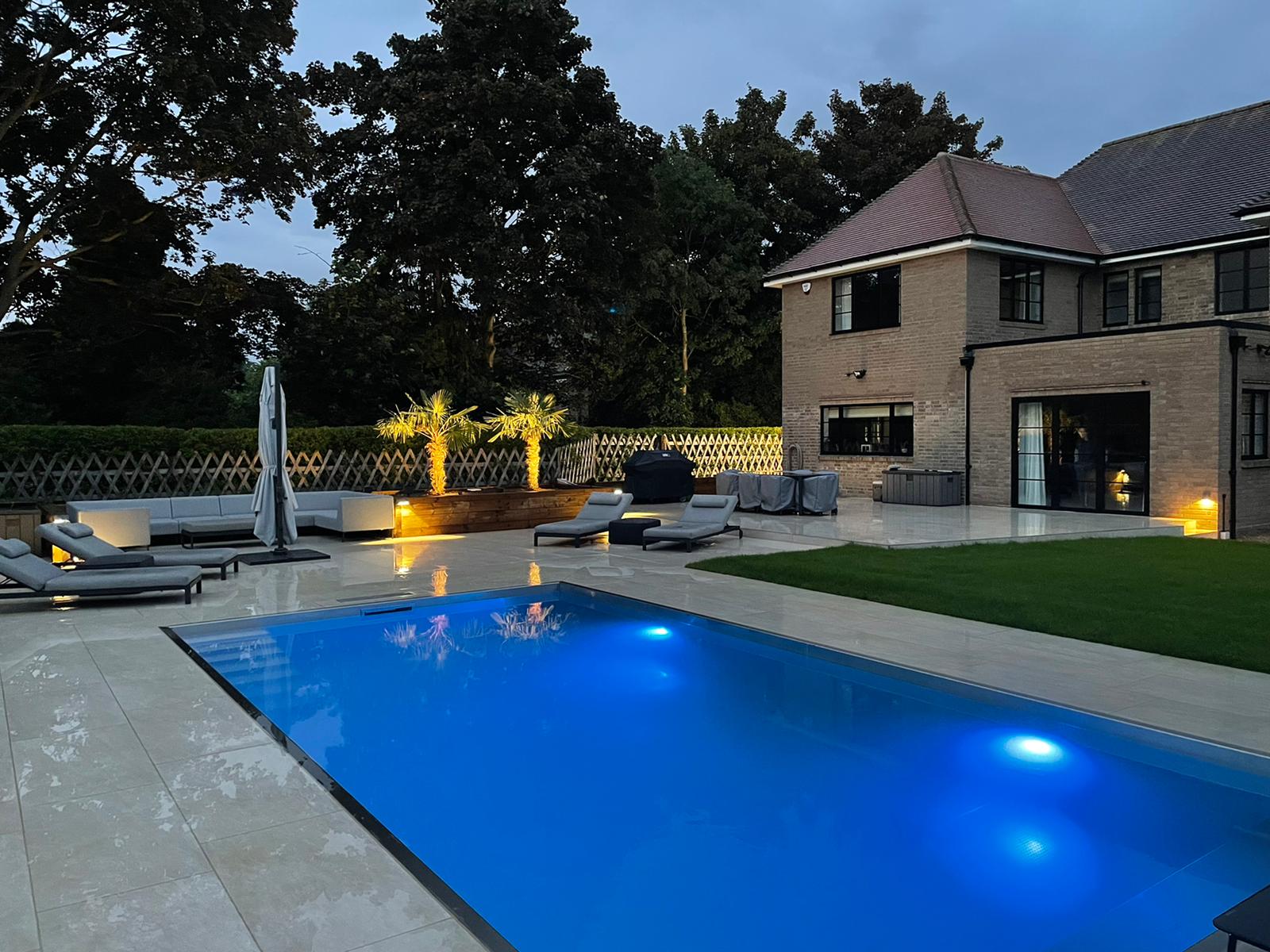 Private Pool FAQ
How is the water supplied to the pool?
Once the pool is filled it is usually auto topped up, therefore any normal water supply will be sufficient.
What ongoing maintenance is required?
Maintenance of the pool itself is designed to be minimal and is normally carried out by the clients themselves, Plant room maintenance is normal carried out with an annual service plane this will normally include the supply of chemicals.
Do I need to cover in winter?
All outdoor pools and most indoor pools will have a thermal cover fitted, outdoor pools can have an additional "winter" cover on top of the normal cover

What fluids would be used for PH? Can I check this myself?
Most of our pools have a fully automatic pool manager which monitors the levels including the Ph and can alarm the client via an app and our Head office, we can then take the most appropriate action for the client.
Private Swimming Baths UK Nationwide
We offer a full range of related services depending upon the requirements of the clients these can include:
Full Spa packages including whirlpools, bespoke Saunas and Steam rooms
Heating and ventilation packages including ducting
Outdoor Plant rooms, weatherproof and built for purpose
Designer Lighting packages